The StorePorter import function can be used to easily adjust product values en masse. Simply export the products to be modified into a spreadsheet, remove the rows and columns for products and values that will not want be changed, make changes to the spreadsheet values and re-import the spreadsheet with the modified values.
In this simple example the freeshipping value is adjusted. All that is needed is a simple two column spreadsheet.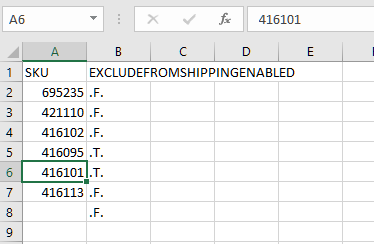 The columns will be labeled "sku" and "excludefromshippingenabled". The values in the columns will be the actual sku and a value for true or false these can be .T. (,true, TRUE, y, yes, YES) for free shipping or .F. (, .f., F, f, FALSE, False, NO, No, no or n) for no free shipping.
Once Imported these fields will be updated with the values from the spreadsheet.